Certified Diploma Translation
Estimated reading time:
7
minutes
---
What is a Diploma?
A Diploma is a certification process that is provided after completion of an educational course. Various Universities in different countries provide various types of Diploma Programmes, these courses are an inevitable part of the academic qualification. A Diploma Certificate is an evidence of successful completion of the academic course. For students who want to study abroad, they need a Diploma Translation. Diploma translation and evaluation is a mandatory process of immigration.
Suppose, if you are traveling to the United States and your diploma is from some other country you need to translate diploma to English. If you are traveling to some other country or looking for immigration to other countries such as Germany, France, and Spain you need to get certified translation done either in German, French or Spanish respectively.
You need to get your qualifications, certificates and all other documents assessed and translated properly while you are applying for immigration process to any country, and for this you need diploma translation services who can certify your Diploma.
TranslateDay is a Official Legal Document Translation Agency specialized in Certified Academic Certificate Translation, authorized by state, federal and local governments, certified member of ATA and USCIS Approved.
---
Why do you need a Diploma Translation to be Certified?
This is when our role becomes vital. If you are willing to pursue your career in the United States you need to translate your Diploma to English as that is a mandatory process during immigration, but not every translation is valid.
Translation must be highly accurate and of good quality, also regarding legal matters not all academic courts accept documents that are not certified or authenticated by a professional. The quality of a Legal Document Translation can only be guaranteed if a Certified Translation Badge is provided alongside with the document, proving that the translation was made by Officially Certified Translators.
TranslateDay provides only Certified Translations: Documents issued by Professional Translation Agencies that provide a certificate of accuracy and completion along with the translated documents, certifying that all detailed statement is true, accurate and complete and that the person who translated the document is fluent in the language that the document was translated to.
Translateday can provide the best Certified Diploma Translation Services for you, in any language you desire.
---
How to translate a Diploma?
Lets look at the most Frequently Asked Questions to clarify this topic:
❓  Where to translate my diploma? Do I need Diploma translation services near me?
✅ You do not need to go anywhere, you can get your Diploma translated and delivered 100% Online by TranslateDay.
❓  Who can translate my Diploma?
✅ TranslateDay delivers high-quality diploma translation services at a simple pricing with full guaranty. All the diploma translation services provided by TranslateDay have USCIS Acceptance and are completely error free and with high proficiency. Our certified language translation experts are highly specialized and have huge experience and all our language interpretation services are error free.
❓ What process does TranslateDay follow in order to translate my Diploma Certificate?
✅ TranslateDay makes your Diploma Translation process easy and convenient.
We accept any kind of commonly used types of documents including DOCX, PDF, and even photos directly uploaded from your mobile phone. As soon as you upload the document that has to be translated in any format, we instantly encrypt it. You can totally feel assured of its confidentiality as we understand that your documents are really important and must be kept secured. We employee only authorized translator lest putting your documents at any security risk.
Diploma translation is of high risk and involves utmost accuracy and any wrong interpretation can lead to further admission or employment issues. Therefore, all diploma translation services are provided by highly skilled and well experienced certified translators who provided exact translation keeping the exact meaning intact. Our highly proficient team is well trained to meet all diploma translation requirements.
See our About Us Section for more info regarding our Translation Company.
If you are planning to get employed in the US and want to settle there, you need to translate diploma certificates to English along with all other documents like Resume Translations, Passport Translations or Transcript Translations.
Our diploma translation services are quick and error free. We deliver within the stipulated time period as committed to our client. We provide all sorts of translation be it Diploma Translations. For every 2-page translation work, we take only 24 hours. Our translation service is approved by USCIS, local governments, federal and state bodies.

---
How much does a Diploma Translation cost?
✅ $23 Translation Price per Page. No hidden fees. This translation is Certified, valid for USCIS, legal processes, and accepted by state, federal and local governments.
❓ How much does a CERTIFIED Diploma Translation cost? 
✅ Again: $23 Translation Price per Page. At TranslateDay EVERY translation is a Certified Translation, done by Professional Translators and has 100% USCIS Acceptance.
At TranslateDay we do not like complications as much as you don't. A page has 250 words or less, one-sided, and letter size (8.5"x11") or A4 dimensions or smaller. We do not charge any translation rate per hour, there are no hidden fees, no small print, just simple pricing.
This price includes the complete process of translation, certification and delivery of your document. Check our Rates and Prices page for more info.
---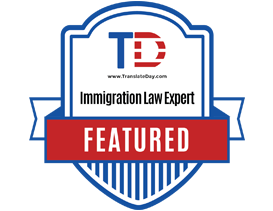 Our most requested Diploma Translation Services:
German to English and English to German Diploma Translation Service
Are you looking for diploma translation services for immigration process? Do you desire to settle abroad for employment or furtheraco education in foreign countries- especially US or Mexico or any other parts of the world? Do you require diploma translation services?
Diploma Translation is one of the fortes of TranslateDay! To translate Diploma to English from German or to German from English, you can rely on our highly proficient German Translators for safe, secure, accurate and timely delivery.
French to English and English to French Diploma Translation Service
TranslateDay has bilingual certified document translators and language subject experts who provide error-free translations services. If you desire to translate diploma to English from French and from English to French, our French translators can provide you the best service.
Spanish to English and English to Spanish Diploma Translation Service
Do you desire a diploma translation to English or diploma translation to Spanish? Or any other language?
TranslateDay will give you the best service at a stipulated time period. Get accurate and fastest translation done by Spanish language experts. If you want to translate your diploma to English, then TranslateDay is the best service provider for you at a minimal cost!
Arabic to English and English to Arabic Translation Service
If you require translating a Diploma Certificate or any kind of legal document translated to Arabic, TranslateDay will give you the best in translation service for Arabic Translations, which is accurate, quick and also secure. Of course, we can also provide you Arabic Translation for USCIS.
Russian to English and English to Russian Translation Service
If you need Russian Translations, you need your Diploma Certificate translated or any kind of legal document translated to Russian, our bilingual translators at Translateday are expert in providing you the best services. Of course, we can also provide you Russian Translation for USCIS.
Dutch to English and English to Dutch Translation Service
For Dutch Translations, TranslateDay will give you the best in translation service which is accurate, quick and also secure. Trust us for translating your Diploma Certificate or any kind of legal document translated to Dutch.
---

We remain at your service. Let us know if you have any questions regarding you order, please check our FAQ or Contact us.