Certified Driver License Translation
---
What is a Driver License?
Una Driver License or Driving License is a document that is officially permitted to an individual to operate motorized vehicles. Each country has own traffic rules and laws, it is mandatory to have a driving license while driving. But it differs: In some countries it is issued before you start to drive, while in other countries a driving license is issued after a driving test. We can conclude that each driving license is issued within their jurisdiction, so, if you are planning to drive in any foreign country you must have a Driver License Translation.
Do not confuse a Driver's License (IDL) with a International Driving Permit (IDP), those are booklets issued by the government of the particular country or agencies that are authorized by the government.
A driver's license is valid for driving any motorized vehicle, car bus, truck, jeep or any other such vehicle but if you are planning to drive in any foreign country you must have a translation of your driving license, but be careful, not every translation is valid: For this purpose you will need a Certified Driver License Translation.
Why do I need a Driving License Translation to be Certified?
Una Driving License is a very important document considered to be a legal document, and like other legal documents it is valid for several legal works. Regarding these legal matters, courts normally do not accept translated documents that are not certified or authenticated by a professional. Translated documents must have some guarantee that the document is authentic and has not been modified, and this is when our role becomes vital.
The quality of a Legal Document Translation can only be guaranteed if a Certified Translation Badge is provided alongside with the document, proving that the translation was made by Officially Certified Translators.
❌ NEVER TRUST services offering you a free driving license translation. Your translation needs to be certified and accurate to be valid for most cases.
TranslateDay provides only Certified Translation: A document issued by a Professional Translation Agency that provides a certificates of accuracy and completion along with the translated documents, certifying that all detailed statement is true, accurate and complete and the person who translated the document is fluent in the language that the document was translated to.
Our certified translators have translated more than a thousand driving licenses to more than 65 languages.
---
How to translate a Driving License? 
❓ Can anyone translate a Driving License? – The short answer is: No.
No one wants to mess up with something as important as a legal document. A small error and you do not know where you are heading to.
Translation and interpretation is a highly skilled and specialized task that require proper care to give the most accurate result. If the translation goes wrong, you will have to pay a huge price for it – which demands a lot of time, money and effort, while it can sometimes give rise to other legal issues for the people involved in it. In some cases, regarding immigration or traveling for example, the wrong interpretation may prompt the dismissal of your citizenship and migration in your record. As we also mentioned, not many courts accept documents that are not certified or authenticated by a professional.
So, again, you cannot have documents that are not translated by a professional expert. Legal matters are not something that you should be taken lightly; as opposed they must be handled with care.
Why not hire a legal document translation service provider like TranslateDay? It might sound to be an expensive affair, but it is actually very cheap and recommended because it is highly trustworthy.
TranslateDay is a Official Legal Document Translation Agency specialized in Certified Driving License Translation, authorized by state, federal and local governments, certified member of ATA y USCIS Approved.
---
How to get your Driver's License translated?
❓

Where to translate my Driver's License? Do I need a Driver's License Translation Service near me?
✅ You do not need to go anywhere, you can get your Driving License translated and delivered 100% Online by TranslateDay.
❓

Who can translate my Driving License?
✅ TranslateDay provides true and accurate drivers license translation. All our license translation is with USCIS acceptance. We deliver quality legal translations at standard pricing, with USCIS Acceptance and full guaranty. We are a qualified global translation agency which holds specialization in high volume translations, immigration document translations, and all sorts of business document translations.
❓ What process does TranslateDay follow in order to translate a Driver License?
✅ TranslateDay makes your driver license translation process easy and convenient.
We accept any kind of commonly used types of documents including DOCX, PDF, and even photos directly uploaded from your mobile phone. As soon as you upload the document that has to be translated in any format, we instantly encrypt it. You can totally feel assured of its confidentiality as we understand that your documents are really important and must be kept secured. We employee only authorized translator lest putting your documents at any security risk.
Our team of translators is carefully selected who have high prolific in bilinguals to meet the industry standards and they are meticulously trained and check each translator's background before letting them proceed with the job. Once your driving license translation process realizamos la entrega rápidamente sin comprometer la calidad en tan solo 24 horas para un máximo de 2 páginas de contenido. Cada una de nuestras traducciones de documentos legales está aceptada y aprobada por USCIS, y los gobiernos estatal, federal y local.
TranslateDay takes 24 hours for international driver license translation once you submit the soft copy of your existing driver's license. We provide you the translated copy of the international translation of driver's license which is certified, stamped and signed.
No matter which country you are travelling, get the best certified driving license translation service.
---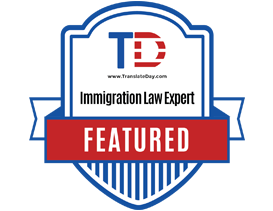 Our most requested Drivers License Translation Services:
Spanish to English and English to Spanish Driver License Translation 
Are you looking for driver license translation service? Do you desire to have your Driving license translated to Spanish from English or translate your Spanish or Mexican Driver's License to English? TranslateDay will give you the best service at a limited time span. Get accurate and fastest translation done by professional Spanish language experts.
French to English and English to French Driver License Translation 
Are you looking for Driver license translation in French? Translate Day has bilingual certified translators and language subject experts who provide error-free translations services.
If you desire to translate Driver license to English from French y from English to French, our French translators can provide you the best service.
German to English and English to German Driver License Translation
Cuando encarga nuestras translate driver license to English from German or translate driving license to German from English or any other language, you can rely on our highly proficient German Translators for safe, secure, accurate and timely delivery.
Driver license Translation is one of the fortes of TranslateDay!
Arabic to English y English to Arabic Translation Service
If you require translating a Driver's License or any kind of legal document translated to Arabic, TranslateDay will give you the best in translation service for Arabic Translations, which is accurate, quick and also secure.
Russian to English y English to Russian Translation Service
If you need Russian Translations, you need your Driving License translated or any kind of legal document translated to Russian, our bilingual translators at Translateday are expert in providing you the best services.
Dutch to English y English to Dutch Translation Service
For Dutch Translations, TranslateDay will give you the best in translation service which is accurate, quick and also secure. Trust us for translating your Driving License or any kind of legal document translated to Dutch.
---
Are you planning to drive in a foreign country? Are you looking for getting your driving license translated in your language or in the native language of the country where you are going? TranslateDay provides you driving license translation.
We have an expert team of translators who do an international translation of drivers license. We work over 160 official languages and provide you the best quality translation of your Drivers License. 
Let us know if you have any questions regarding you order, please check our Preguntas frecuentes, Contact us, see our About us Section or our Rates and Prices for more info.